Caran d'Ache Luminance Pencils Horse Portrait! 😀
Title: Bailey.
Size: 8×10 inches.
Medium: Caran d'Ache Luminance colour pencils and a black Faber-Castell Polychromos,
on Arches smooth 100% cotton watercolour paper.
This gorgeous horse is named Bailey and I've had the pleasure of being photographed with him a couple of times now, and even had the opportunity to ride him during one photoshoot. He is simply stunning and I just had to do a portrait of him. 🙂 I tried videoing my progress but with the limited area I work in, the tripod for the camera leans against my desk which isn't a big deal as I'm painting, but with colour pencils, it ends up all wobbly and difficult to watch.
So I took lots and lots of photos as I worked and you can see him come to life below! 😀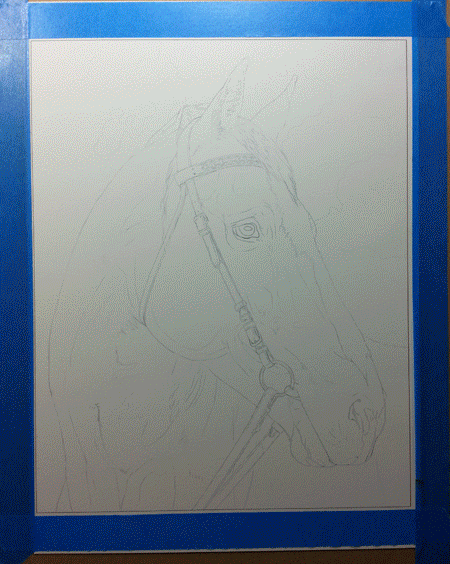 For some of the very dark areas I used my trusty black Polychromos, but there were several layers of other colours above and below it so they didn't turn out flat. Really need to buy more of those pencils… 😉
I used Gamsol (an odourless mineral spirit by Gamblin), to blend after every few layers of colour pencil. It dissolves the pigment in the pencils and gives it a lovely soft appearance, but you need a decent amount of pencil pigment on the paper to begin with otherwise it won't work.
For his mane and bridle, I ended up burnishing (basically pushing hard on the pencils and forcing the pigment into the paper), because I did them last and didn't want to accidentally mess up all the work I'd done on his face and neck. I really like using the two methods together! 😀
This is the first time I've used the Luminance pencils and I love them SO much! I have lots of pencil artworks planned in the near future and I'll even be offering colour pencil pet portraits soon. 😉 Email me if you're interested and want to know more: kat@kathrynwhiteford.com
My portrait of Bailey was also part of the November Showcase for AUSCPA (Australian Society of Coloured Pencil Artists), over on YouTube! 😀 There are some incredible artists in this video, make sure you see them all!
What blending techniques do you prefer for your colour pencil artwork? 🙂