And so begins a year of elves.
*coughs*
Maybe I should explain a little more, huh?
So. I've been feeling a bit, well, not quite unhappy as such, but let's say unfulfilled with my work for some time. I was still happy with what I was creating and the quality of my work, but whenever I looked at my gallery as a whole, I just felt…meh.
There was nothing that really said anything about who I was as an artist or the direction I wanted to go with my work. I'd tried many mediums and fallen in love with several of them, but they were only part of the puzzle. I wanted to love my work, really love it and love creating it.
I wanted more. Needed more.
In September/October 2018 I thought working on a series would be the way to go. So, after much thought and reflection I settled on painting a series of elves.
Why elves? Well, why not?
Seriously though. Why not elves? Anytime I'd sit and just mindlessly sketch, soon a face with pointed ears would appear on the page. Clearly I loved sketching elves. So I figured why not just paint a few as well?
And let's be honest, pointed ears are fun!
I sketched a couple dozen thumbnails and let the idea sit while I finished working on other projects including NaNoWriMo in November. December was busy, as you'd expect, but by the end of the month I had time to work on the idea a bit more.
Every day I sketched a face with pointed ears. Some with flowers, others with leaves and some just with wonderful elvish hair. Some will remain as they are, sketches, but some will become finished artworks.
Here's the initial sketch for the painting above. I enjoy using pencil for sketching ideas because it's, I don't know, freeing I guess. I find it more relaxing than sketching digitally. But! I do love fixing my work in Photoshop because as you can see, my sketches are very rough and a bit, uh, wonky as far as anatomy goes. But sketches are about getting an idea down, not perfection.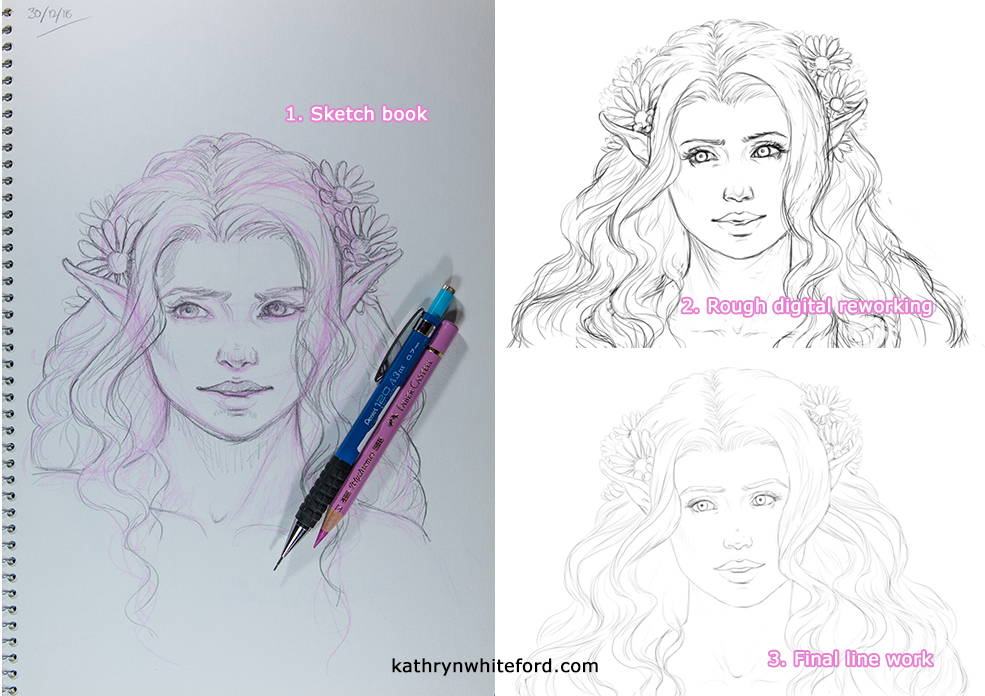 My goal is to continue sketching every day, with the occasional day off, because…life. But if I do at least 6 of these per week, I'll have over 300 sketches by the end of the year! Setting 10-30 minutes aside each day seems pretty worthwhile to me.
I won't be painting every idea of course, because not every idea is worth chasing. But I'll have loads to chose from! The goal is to do 2-3 paintings per month and end up with a full series by the end of the year. I've decided somewhere between 25-30 paintings constitutes a series. No reason for those numbers, just…because.
And I'm planning on joining a few challenges along the way, all with an elvish twist as you'd expect. Mermay, Junicorn and Inktober are the main ones I'll focus on along with some holiday themed artworks, but you'll have to wait and see which ones I choose.
I don't intend to do the full months of Mermay or Junicorn, but at least one artwork for each of them. Inktober is one I intend to complete, provided the month remains free of other commitments.
At any rate, you can expect to see many elves this year! I will still paint other things I'm sure, but 2019 is the Year of Elves for me.
It'll be interesting to see how my style changes between now and December and if I still love elves as much, lol.
You can follow this elvish journey of mine on Twitter and Instagram. I've made a hashtag that you can follow if you choose not to follow the accounts themselves: #yearofelves